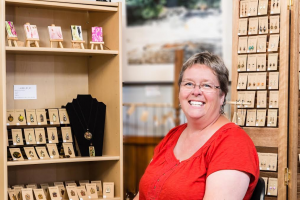 Pamela Hecht has been chosen as the Featured Artist for the 2016 Eagle Harbor Art Fair – August 13-14
Pam creates one of a kind jewelry items from nature's minerals, fossils and stones, as well as re-purposing items to create unique pieces of art jewelry.
Pam grew up in Rice Lake, WI. At the age of 12 she started collecting rocks, minerals and fossils which soon developed into a genuine hobby.
Twenty-five years ago Pam and her husband fell in love with the Copper Country while on a rock collecting adventure to the area. In 2004 they moved to Calumet. She has been creating her company PAMATIONS for over 20 years…..all because of her love to be creative.
Pam uses an eclectic blend of new, repurposed and natural designs which are expressed in her jewelry and paper arts. All of her art work uses one of a kind items from natures' minerals, fossils and stones which she has collected on her travels. "I thank both of my grandmothers & mother for showing me how to express my talents," Pam said.