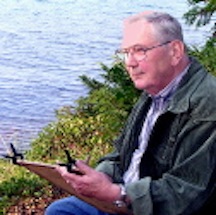 "I paint for people and their homes. Hopefully, through my work, I can share with others my own curiosity, excitement and awe as I continue to explore this contradictory and contentious world — a treasure of diversity and order — in which we live.
Linden Dahlstrom has been painting in the Upper Midwest for many years. He has shown in numerous shows and his paintings are in many collections. The major theme of his work is the interpretation of human endeavor and the natural environment with an emphasis on the lakes, woodlands and history of the Lake Superior region.
His two studio locations, one on the shore of Lake Superior near Copper Harbor in Michigan's Upper Peninsula and one in Arden Hills, Minnesota, give him easy access to the North Country and its rich history.
Mr. Dahlstrom's professional career includes a lifelong involvement in Design and Housing as an Interior Designer, retailer and technical college instructor and writer. He has also worked with Elementary school children as an Art Specialist. His involvement with students of all ages and backgrounds has helped keep his perspective of Art and Design flexible, fresh and inquisitive.
Education:
University of Minnesota
BS degree in Language Arts and Art Education MA degree in Human Ecology with an emphasis on Design, Housing and Art Education