Nancy is an inspiration to everyone she meets.
Nancy McCabe is a kind and humble person who, because of her determination to foster learning, has changed many peoples' lives in Houghton and Keweenaw counties, and beyond as well.  Back in the early 60's, she helped start the Copper Country Associated Artists, and has been an active member ever since.  The purpose was to encourage the growth and development of art in her Calumet Laurium community, and that purpose remains the primary mission of the organization.  Nancy is still vitally involved…teaching classes, helping to organize the Eagle Harbor Fair,  First Friday and other community events, inspiring other artists as well as producing and selling her own work, and making sure that the Copper Country Associated Artists stays on track with its mission in the community.  She taught art to young people in the Copper Country for many years, teaching in four communities… the Charles Briggs, Mohawk, Morrison, and Washington schools.  As a teacher, she explored many different art techniques, and continues to experiment, even to this day.  Originally focusing on sketching and watercolor art, her latest endeavors have been forays into silk painting, and most recently experimentation with glass casting in sand.  Her beautiful creations are set as sculptures, and she also creates clay pieces and glass fusings which are turned into pieces of jewelry and window decorations.  Ever the teacher, Nancy is always eager to encourage artists of every age to experiment and challenge themselves to reach and keep growing.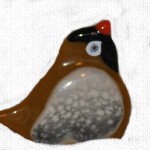 Nancy is an inspiration to everyone she meets.  She is always focused on following her heart and doing what's right in every situation. Staying in touch with those who are dearest to her…her family and her friends… this has meant so much to those whose lives she's touched and persistently urged to keep going even in the hardest of times.  Keeping active and staying close to nature have maintained her spirit, and inspired the artistic nature that continues to grow in this young at heart woman with an infectious positive spirit.