Classes in the techniques of Stained Glass
CCAA member Christine Porter is again offering classes in Stained Glass techniques. See Christine's profile in the Our Artists page of this website. 
Classes will be scheduled per availability of students and instructor, with a minimum of 2 students and a maximum of 3. Please provide your contact information to me by email (click on Contact button at bottom of page) or text .I will then contact you.  No experience is necessary!
 Class availability during May, June.
Location: Copper Country Associated Artists Gallery-205 5th Street, Calumet, MI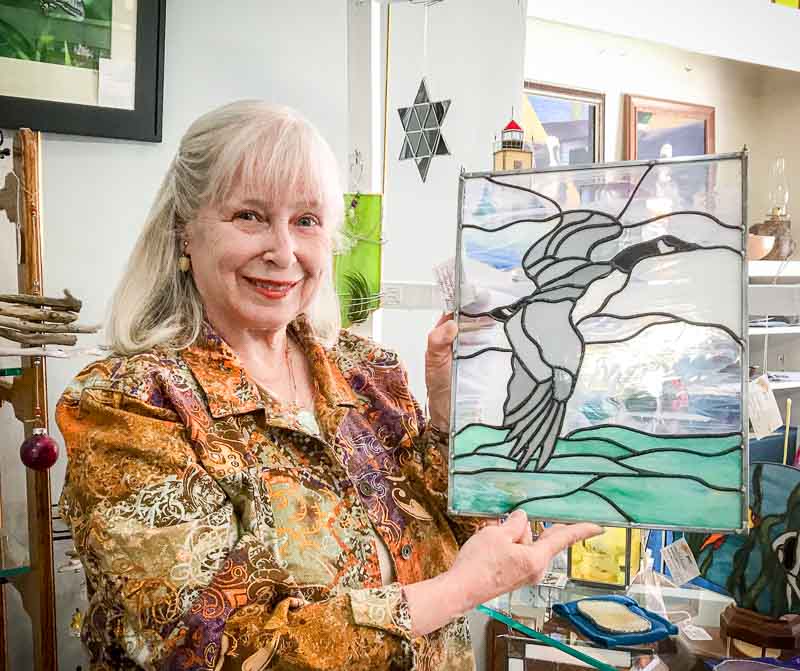 Christine Porter
CLP Glass Art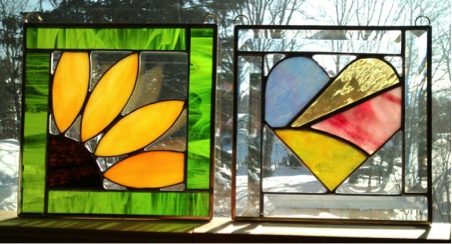 Each is 7" square, with your choice of either the clear border of bevels, or colored strips of stained glass to complement the design.
The patchwork heart design is of any pieces of glass that you choose, while the sunflower would be traditional colors.
Introduction to Stained Glass
. . .using the Tiffany method of copper foil and soldering.
You will complete your stained glass piece in two classes, 2 and ½ – 3 hours each.
Learn to score, fracture, groze, and grind stained glass to template shapes, and to apply and burnish copper foil tape – in session one.
Learn soldering techniques, framing in brass channel, attach hangers, and clean/polish to complete your piece – in session two.
To make this possible in such a short time and at reasonable cost we will need to limit the designs to those I have pictured.

Tool use (you will be using 10-12), pattern, stained glass/bevels, and supplies are included.

Class size is 2-3 people so everyone will get plenty of attention. Wear comfortable closed shoes with socks, long pants/skirt and long sleeved shirt/top. Bring your own safety glasses or you may borrow a pair. If desired, bring a beverage in a covered container.

Total cost is $70, due at the beginning of the first session.

This includes instruction and studio use fee of $45, and the glass, supplies, and tool use fee of $25

Plan to have fun!
Mosaic Techniques with Stained Glass
Unleash your creativity-make a stained glass mosaic mirror. No experience necessary. Enjoy your own work work of art for years to come.

Prepared 10″ x 10″ wood base with mirror provided.
 Lots of glass in cool to vibrant colors to choose from.
Materials, supplies and tool use included.
Many pattern ideas to select from, or design your own.
Come play with stained glass-Learn and practice traditional glass cutting and mosaic techniques. Instruction includes:
Composition, mosaic techniques, pattern and template working, and glass making safety.
 Scoring and fracturing stained glass with traditional glass cutters, using various pliers, abrasive stone shaping, and grinding if needed.
Using a wheeled mosaic nipper to shape tesserae and cullet pieces..
Selection and use of adhesives, grouts and sealing for stained glass mosaic pieces..
Mosaic Mirror class is two sessions ; the first session is 3 hours, the second is 2 hours. Class size is minimum of 2 and maximum of 3.
 Class fee is $40. Materials, supplies, tool use is $20. Total payment of $60 is due prior to  start of first session.
The "Fine Print": Wear closed shoes with socks. NO sandals please! Bring your own safety glasses or you may borrow a pair. Long pants are a good idea. If desired, bring a beverage in a closed top bottle or cup.  Plan to have fun!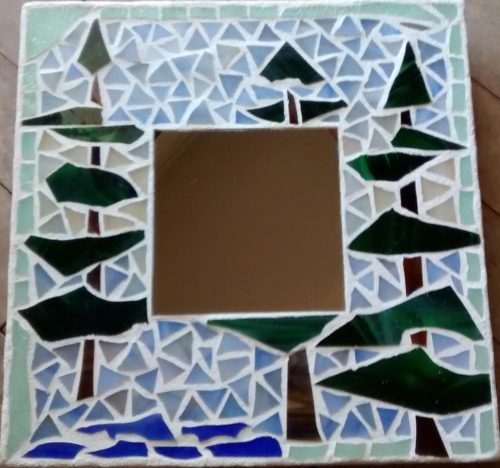 .... or text your contact info. and class preference to (906) 281-8601