Eagle Harbor Virtual Art Fair
At the Eagle Harbor Virtual Art Fair you will find a juried selection of the same art work that you would have seen in Eagle Harbor this summer.  Unfortunately you are sitting at your computer and not enjoying the gorgeous Copper Country scenery. Thanks, COVID.
The selections at this must-see virtual event are are in two sections: Artwork from the Art Fair Vendors. In this section you are buying directly from the Vendor. If you have questions or issues regarding your purchase, please reach out to the seller directly.
The next section is artwork of the Copper Country Associated Artists members. You are purchasing this art through the CCAA Gallery. If you have questions or issues regarding your purchase, please reach out to CCAA through the webpage Contact Us section.
Happy shopping!
Let's Get Started - Jump to a Section or just scroll down
Deborah K. Frontiera grew up in Michigan's Upper Peninsula. From 1985 through 2008,   she taught in Houston public schools, followed by several years teaching in Houston's Writers In The Schools program. A "migratory creature", she spends spring, summer, and fall in her beloved U.P. and the dead of winter in Houston, Texas, with her daughters and grandchildren. Four of her books have been honor or award winners. She has published fiction, nonfiction, poetry, and children's books. She edits the newsletter for the Upper Peninsula Publishers and Authors Association. For details about her many books and accomplishments, visit her web site by clicking the SHOP HERE button below.
On the site, you will see descriptions of all her books and downloadable sample chapters in PDF form to see whether you like a book or not.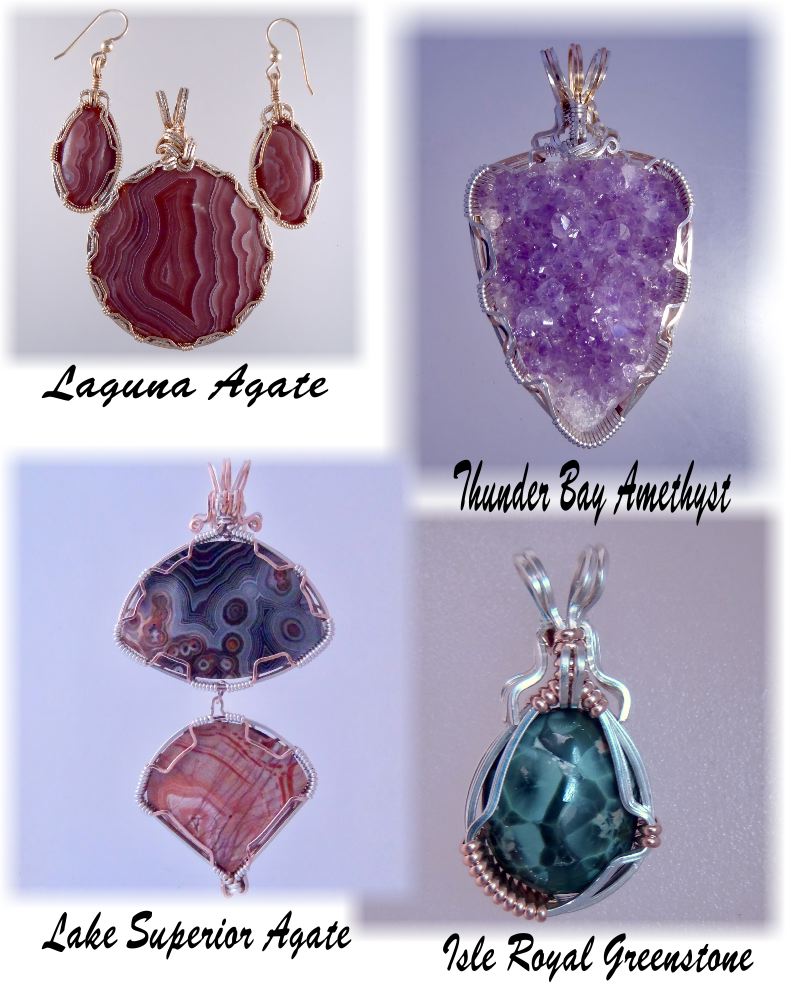 The stone is always the star in our jewelry creations.  Don & Bonnie Reed trained at William Holland School of Lapidary Arts to create one-of-a-kind jewelry.  Don cuts the stones and creates handcrafted wire-wrapped jewelry with life long beauty. Bonnie fashions earrings, bracelets, and necklaces from stone beads. Don is renown for his clean, meticulous, and creative approach to his craft. "People think I'm a little crazy when I tell them the stones talk to me and dictate what I do with my wire, but in many cases they do.  A good wire artist will match a wrap perfectly with their chosen stone."  Our elegantly wire-wrapped stone pendants feature stone unique to the Keweenaw Peninsula and the Lake Superior and Copper Country regions. Some favorites are Greenstone, Lake Superior Agate, Datolite, Thomsonite, Prehnite, Firebrick, Mohawkite, and Copper Replacement Agates.  
Oil on Driftwood/Wood Carving
Joan Bonner has been painting since childhood. She was born in Michigan in 1938. She took nursing in college and painted and took art classes in her spare time. She began selling her work in the 50's doing weekend art shows. In 1972 she and her family moved to New Orleans where she became a full time artist selling her wildlife and nature paintings on driftwood at Jackson Square in the French Quarter. She also does several art shows around the country and has won several awards. She has been studying art at the New Orleans Academy of Fine Art for many years and does oil on canvas paintings there.
Dick Bonner is a world champion decorative bird carver, as are her sons. They teach carving and have been full time professional carvers for many years. They all share a love of nature and express it in their art.
Northwoods Art Studio's name came easy to self-taught artist, Julie Highlen.  Even before moving to the Upper Peninsula, Julie had been painting iconic U.P. scenes.  Having had a log cabin in the U.P. for over 20 years and also exploring the U.P. throughout her life, it was only natural for her artwork to celebrate the north.  She considers her studio to be the Upper Peninsula and Lake Superior's shores.
Julie wants the viewer to not only enjoy the beauty of nature, but the strength and resilience of it as well. Whether depicting a lone tree or a single boulder, along Lake Superior's shore, with cedars miraculously growing out of it, there is majesty.  She has been described as a "mood painter" with her work "capturing the serenity of the moment", "taking a vacation on canvas".
Born and raised in Upper Michigan, I fell in love with the Great Lakes at an early age. My career path took me to Wisconsin where I spent over 33 years as a Lake Superior fisheries biologist. After retiring, I wrote a children's Great Lakes trilogy. I wanted children to understand the Great Lakes ecosystem through the eyes and voices of fish, and ultimately use this knowledge to become informed citizens that care about the Great Lakes. My books are appropriate for children in middle elementary grades.
Cathy's Homestead Weaving
My Grandma taught me to weave on my first loom over 37 years ago. I started out selling my rugs in Green Bay, WI at  farm markets and small craft shows. Our three daughters helped out in the weaving shop, they loved going to markets and shows with me. 
We moved up to  Northern Wisconsin in 1998, and in 2004 my husband Mark joined me weaving full time. We expanded our weaving business to 12 looms which enables us to offer 5 different rug widths, and many lengths. We also weave wall hangings, tapestries, table runners, placemats, tank toppers, hand bags, mini runners and mug rugs. We travel to Art and Craft Shows May through December, selling in three states, Wisconsin, Michigan, and Minnesota. 
Along with weaving we have a small farm in Northern Wisconsin where we raise Registered Irish Dexter Cattle, have a big garden, can and freeze veggies, and spend time with our grandchildren. If we get any spare time we love to go camping.
As a Michigan native living full time in the Keweenaw Peninsula, I take beautiful rocks and mineral treasures found in Michigan and the surrounding Great Lakes and hand fabricate sterling silver and copper settings for them that are natural and organic in design. My intention is to compliment and enhance the stones so that they become keepsakes to be worn and enjoyed for many years and generations to come.
Note: Prices listed in the CCAA Members section include shipping within the USA. The CCAA Gallery is OPEN for in-person sales or curbside pickup. If you are a Copper Country local or plan to be around Calumet, you can pick up your purchases at the Gallery. Click in the checkbox on the order form and the shipping cost will not be charged.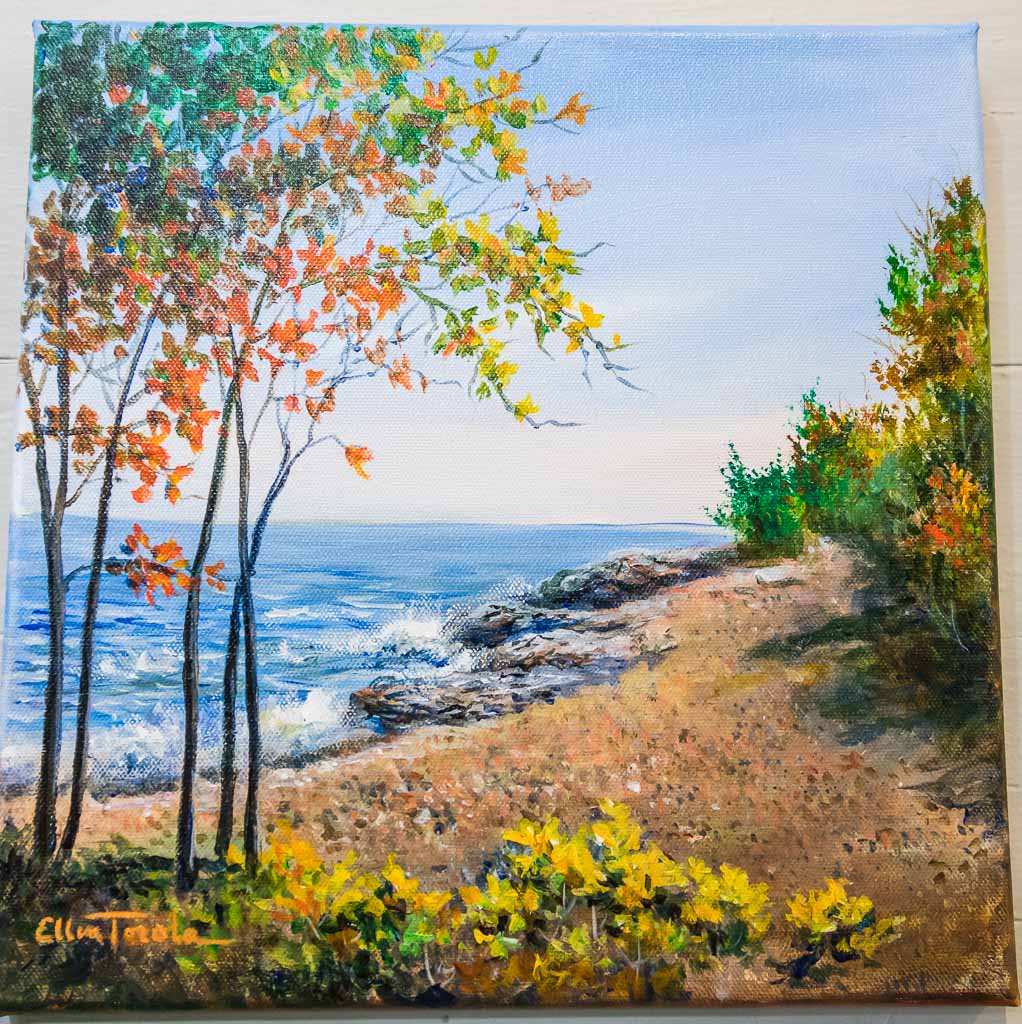 Ellen Torola
Well-known artist, Ellen Torola, owned and operated the former Paint Box Gallery in Calumet for 32 years, where she taught art classes, sold art supplies, frames, and her own artwork. Although she has retired from the business, she continues to paint at home. Her work is found at the CCAA and at her home. Ellen Torola is a self-taught artist, and has been intensly interested in art from a small child. She attended many workshops in watercolor, pastel and oils, throughout the United States as well as four countries in Europe. Ellen has narrowed down her paintings to acrylics and watercolor. Her favorite subject is local wild flowers and scenery of the Copper Country.  Her byline from her former gallery was "a gallery full of copper country". At right there are some pictures of her recent trip to Armenia where she taught a watercolor class.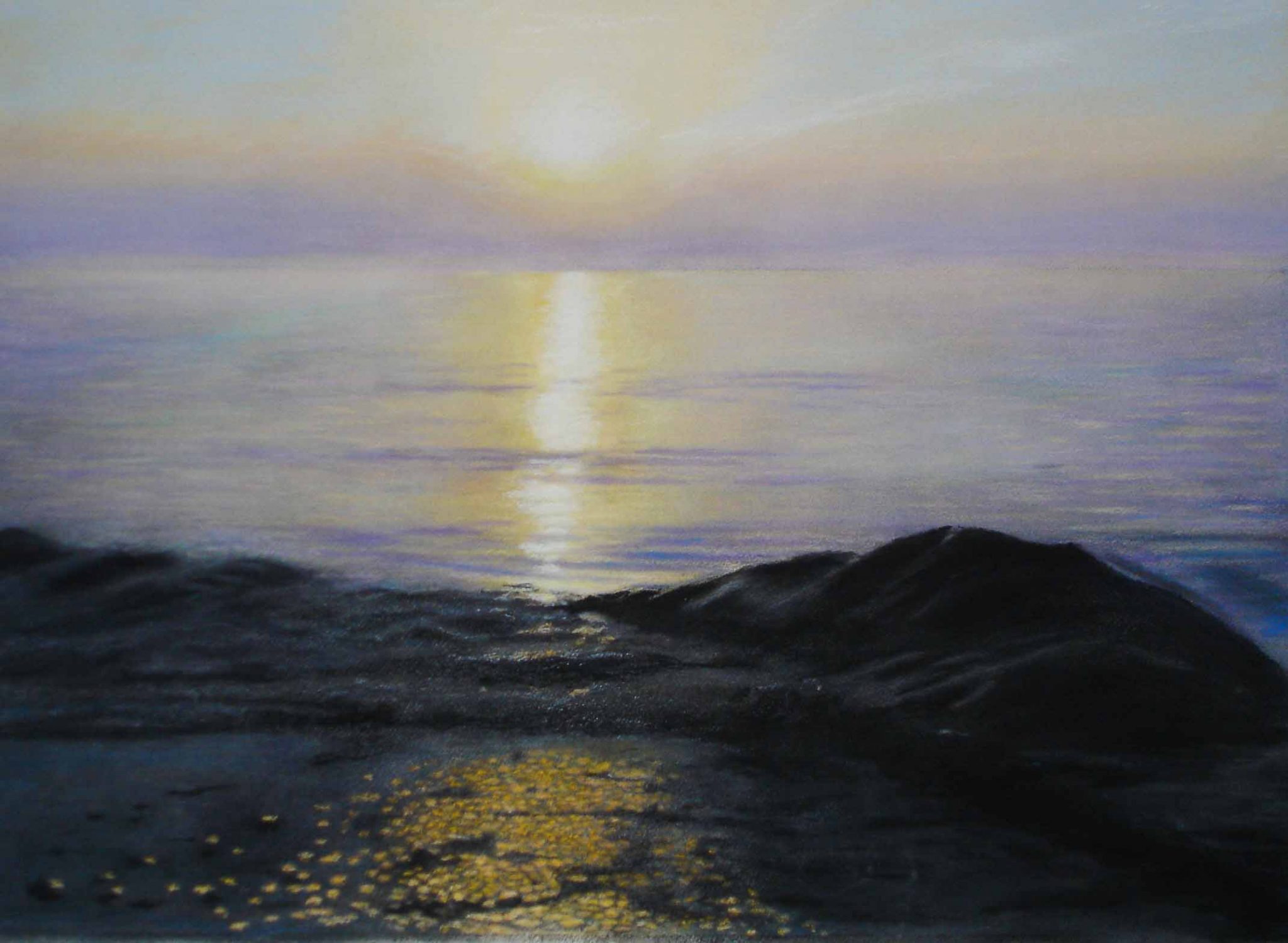 Clyde Mikkola
Clyde Mikkola moved to Calumet when he was 7 years old.  He graduated from Calumet High School After several years of work and serving in the Navy, Clyde completed his art degree at the University of Michigan. After a few years, Clyde returned to the Copper Country, where he helped raise his two sons and has since held several jobs, while continuing to grow as an artist and an important member of the local art community.  He has also worked extensively at Keweenaw Krayons in Mohawk, taught classes at the Copper Country Community Arts Center in Hancock, the CCAA in Calumet, and worked extensively at the Omphale.  Clyde is a bit of a "time traveler".  He enjoys occasionally stepping back into the world of the "Limners", itinerant artists of the mid 18th century, and much of his artwork reflects the unspoiled beauty of that time.  He as shared this interest in with many area schools, bringing educational programs to history classes and even did a Lewis and Clark Residency,   He has done Artist in Residency programs at Isle Royale, the Hiawatha National Forest, and the Porcupine Wilderness state park. Clyde's most common subjects are scenery, but he does portraiture as well. He is well known for his breathtaking watercolors, his expansive acrylics, and meticulous pencil drawings.
Fabric Artist - Quilting, Painting and Ceramics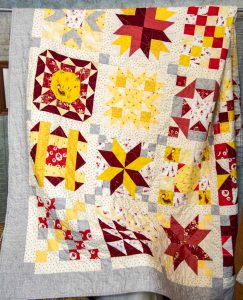 "Each Day must have a bit of needle and thread in it"
My love of quilts began in the mid-70's, but really became a passion later in the 90's. I take classes whenever I can, and I learn from other quilters. I've been asked, "Why are you making that? Who is it for?" When I think of a quilt design or see a design (even from a tile on a bathroom floor), I just HAVE to make it. And what I do with them, who knows?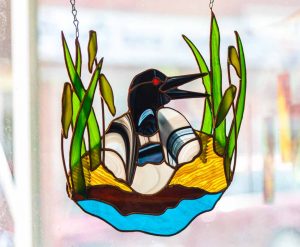 "The inspirations of nature, family, and meaningful experiences and places mostly drive my desire to create in stained glass."
The expressive nature of how light enlivens the beauty of stained glass, coming through it, reflecting off of it, and seemingly sometimes even playing with it, gives me ongoing inspiration to create with it. I enjoy drawing upon themes from nature, family, and meaningful experiences and places as I design with stained glass, sometimes incorporating additional elements such as driftwood, agates, stones, jewelry, and other items. I hope that my art pieces bring pleasure to others.
"My paintings are primarily about movement, shape, texture and color."
They reflect my thoughts on the opposing elements of nature: structure versus flow, energy versus calm.  I love the process of making a painting, applying the paint to paper and watching the paint take on a life of its own.  What a surprise and joy it is to create something that has never been done before.
I paint because I must; it is important for my well-being
My collages are made up of tissue papers which I paint and decorate with handmade stamps, torn pieces of paintings I no longer want to keep, handmade paper, rice paper, and whatever other found object I wish to incorporate into them.
When I retired in 2010, I started to get more serious about my photography. Today my photographic interests  include landscape, wildlife, lighthouses, portraits, street photography and an occasional wedding. Bird photography is a recent endeavor. Capturing birds in flight is very challenging and requires a whole new skill set. 
I am guided by these words of Ansel Adams when he said "There are always two people in every picture: the photographer and the viewer"
I grew up in southern Michigan. As a student at Western Michigan University I was very interested in taking some art classes but found they were 'full' unless you were an art major…..which I became.  Thirty some years and four children later I found myself retired from a very rewarding teaching career in art and finally ready to pursue my passion for making art full time.
In the creative process, I seldom start a composition with much more than a glimmer of where I am going with it.  A color, a shape or a feeling is where I begin and I'm often in wonder of how a work develops and the final result.
Of late, my work tends to be more abstract than not but almost without fail, the wondrous natural world of the Keweenaw, and mostly the 'big lake', shows itself in what I do.
The classic design of the Shakers has always intrigued me, and I am compelled by the spare and graceful quality of their aesthetic. Making quality examples of their work demands full attention to detail in material choice, construction, joinery, and finish. 
Pantry boxes were commonly used for storage in 19th century and the Shakers distinguished themselves with the development of the oval box with finger joints. No glue is used in construction.
All materials are sourced from local and Michigan suppliers. I get my wood from local mills and building supply stores.  Even the copper tacks are manufactured in Michigan. My shop is in the basement of my home in Hubbell in the Western UP.
Jim O'Brien   Hubbell Woodcraft
The home of the Copper Country Associated Artists is their Art Gallery located in the Downtown Historic District of Calumet, Michigan. CCAA member artists display their work for sale. Members also staff the gallery. Visit the Gallery; you may meet your favorite artist.
The Copper Country Associated Artists          is a community based art organization, encouraging artistic expression and helping artist to market their products through a member-operated Art Gallery and the Eagle Harbor Art Fair. CCAA is based in Michigan's Upper Peninsula in the historic village of Calumet. 
Copper 
       Country
              Associated
                         Artists
"Everything you can imagine is real"