Introduction to Stained Glass, using the Tiffany method of copper foil and soldering.
Location: Copper Country Associated Artists Gallery – 205 Fifth Street, Calumet MI.
Dates to be established by response and availability. Please provide your contact  information   to me by email or text. No experience is necessary!
You will complete your stained glass piece in two classes, 2 and ½ – 3 hours each.
Learn to score, fracture, groze, and grind stained glass to template shapes, and to apply and burnish copper foil tape – in session one.

Learn soldering techniques, framing in brass channel, attach hangers, and clean/polish to complete your piece – in session two.

To make this possible in such a short time and at reasonable cost we will need to limit the designs to those I have pictured.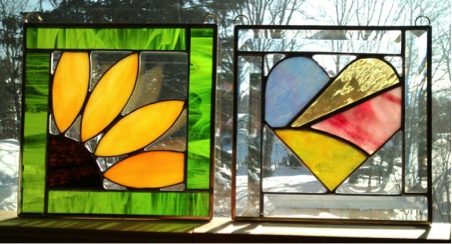 Each is 7" square, with your choice of either the clear border of bevels, or colored strips of stained glass to complement the design.

The patchwork heart design is of any pieces of glass that you choose, while the sunflower would be traditional colors.
Tool use (you will be using 10-12), pattern, stained glass/bevels, and supplies are included.

Class size is 2-4 people so everyone will get plenty of attention. Wear comfortable closed shoes with socks, long pants/skirt and long sleeved shirt/top. Bring your own safety glasses or you may borrow a pair. If desired, bring a beverage in a covered container.

Total cost is $70, due at the beginning of the first session.

This includes instruction and studio use fee of $45, and the glass, supplies, and tool use fee of $25

Plan to have fun!
Please contact me to let me know of your interest and availability.
Thanks,
-Christine Porter,  906.281.4865